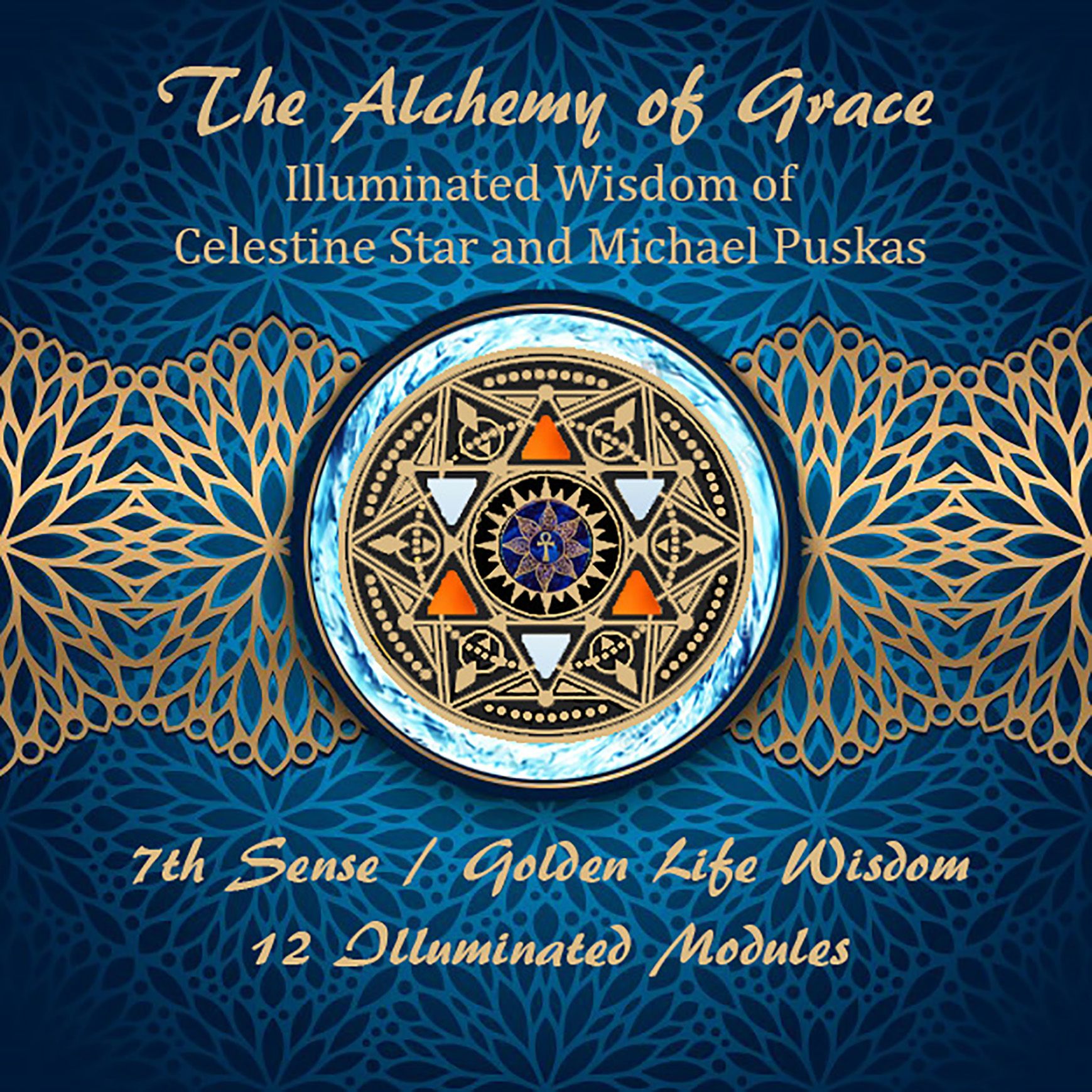 What you are going to learn
A few more words about this course
Welcome and greetings to the first introductory module course of the Alchemy of Grace brought to you by the 7th Sense team & Golden Life Wisdom Productions. We have endeavored to strip away the remaining attachment, to the toxic residue that is left over from the dissolving of the third density matrix. The third density holographic reality that you and I have been predominantly working and living within has recently dissolved because of the spike in the Schumann resonance, because of the greater concentration and intensified nature of the Photon energy around the planet, and the fact that humanity has been through three major eclipses and a number of major portal gateways that has led us to leave the third density Duality experience behind and move seamlessly and lovingly into this Fifth Density abundant Timeline. The Alchemy of Grace, the deeper and closer connection to the Divine is predominantly based around the ancient and sacred Hermetic principles.
Throughout this course you will discover how to do the following
Empower Yourself
Improve your health, wealth and vitality
Understand your reason for human existence
Express your true and authentic self
Implement healing processes in your life
Dr. Celestine Star, D. D.

Dr. Celestine Iisha Star, D.D. has been called a "Renaissance Woman" for our evolutionary times, possessing great knowledge, wisdom and expertise in many fields of endeavor. She has been a Celestial, Ultraterrestrial, and Extraterrestrial experiencer for over 60 years and is an Ambassador to the High Spiritual Council, the Galactic Star Federation and the Star Confederation, since 1986. 
Dr. Star Founded the Galactic Earth Council in 2010, offering Celestial Activations, Galactic Origin Sessions, Skywatches and other modalities for those on the Pathway of Awakening to their Star Origins and Divine Self. 
Dr. Star is the owner of Papillon Life Services and Golden Life Wisdom, offering Holistic Therapeutic Healing modalities ranging from pain and trauma management to business and life coaching. Dr. Star is a Clinical and Alchemical Hypnotherapist, In-depth Psychological Practitioner and Metaphysical/Spiritual Guide. 


Dr. Star has been owner of Golden Star Productions, an Event and Media company in Northern CA since 1986. Dr. Star has been documenting and filming humanity for over 30 years. She is a film maker, documentarist, VJ (Visual Artist), creator of Dharmic Ceremonial Theater and has worked with NASA Ames Space Center, Johnson Space Center, Burning Man, Virtual World Studio and more. 


Called by many a Mystical Alchemist, Holistic Therapeutic Healer, Entrepreneur, Grandmother Wisdom Keeper, Keeper of the Great Mysteries, Oracle/Prophetess and Psychic. Celestine has successfully offered her gifts as a speaker, educator, author, clairvoyant medium, workshop / seminar leader and spiritual guide to thousands of clients for over 40 years.


Dr. Star has dedicated her life to assisting in the healing, evolution and awakening of human consciousness for the betterment of humanity and Earth for generations to come. Star's published books; UNI-PHI: A Journey into Oneness and The Galactic Earth Council: Reintegration of the Earth Kin and Star Kin. 


For and more information about Celestine Star, please visit her websites: celestinestar.com/goldenlifewisdom.com/galacticearthcouncil.com


Course reviews
Having been on a spiritual journey for many years I needed a composite understanding of how all the pieces fitted together. The empowered knowledge afforded to me by the course gave my power back.

Riki Buckingham

Musical Alchemist (England)

Living in India surrounded by the teachings of the Hindu Deity's gave me such an important grounding in the Hermetic principles of spiritual evolution. But the simplicity created by the Alchemy of Grace video modules made it easy for me to upgrade my consciousness and human outlook.

Maniswita Jaiswal

Spiritual Teacher (New Delhi)

Created with